In the summer of 2007, I'm teaching the following:
Creative Writing Online - ENGW 1111-00 and 01 (3 credits)
Young Adult Literature Online - ENGL 1161-01 (4 credits)

In the fall of 2007, I'm teaching the following:
English Writing 1111, Creative Writing, Online (3 credits)
English Writing 1113, Fiction Writing (3 credits), 10:00 - 10:50, TWTH
English Composition 1101, Hybrid (4 credits), 1:00 - 2:50, F
English Composition 1101-00, Online (4 credits)

In the spring of 2008, I'm teaching the following:
English Literature 2151, American Literature II (4 credits), 1 - 2:50, MW
English Writing 1111, Creative Writing (3 credits), 11 - 11:50, MWF
English Composition 1101, Online (4 credits)
English Composition 1101, Hybrid (4 credits), 9 - 9:50, T

For more information on any of my classes, send me a note:
.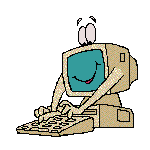 Here's my bio:
Teaching
I've been teaching English at the college level since 1990, when I began working as a teaching assistant at Mankato State University (now Minnesota State University Mankato). From 1993-94, I was an adjunct instructor at Bainbridge College in Bainbridge, Georgia, and from 1994-99, I taught full-time at Des Moines Area Community College in Ankeny, Iowa. Since August of 1999, I've held my current position at Normandale Community College. Instructional Technology
I've always been interested in instructional technology. As a teaching assistant, I experimented with computer-assisted instruction, and I continued to use computers in my classroom on and off until 1995, when I made the commitment to teach all of my composition classes in a computer-intensive environment. I also have taught television courses, and have used presentation/multi-media software in the classroom. I taught Normandale English Department's first online course, American Literature I Online, for three years. For three years I served as Normandale's Instructional Technology Coordinator. In this position, I assisted interested faculty in the adoption and use of instructional technology in and out of the classroom.
Education
I graduated with my Master of Arts in Creative Writing/Poetry from Florida State University in May 1995. In 1992, I graduated from Mankato State University with a Master of Arts in Teaching English. I began my college career at Drake University, in Des Moines, where I completed a Bachelor of Arts in English, with a Music minor. I'm currently working towards an MFA in Fiction at Minnesota State University-Mankato.
Publications
I love reading and writing poetry. You can read my poem Tanka in The Barefoot Muse: A Journal of Formal and Metrical Verse, Winter 2007 Issue.
Two of my poems also appear in Thirteen Ways of Looking for a Poem by Wendy Bishop.
I have also published poems in RagMag, the Mankato Poetry Review and Loonfeather.
In addition to poetry, I've also dabbled in play writing and fiction writing. A one-page play of mine, "Casualty", was a finalist in Theatre Vertigo's One Page Play competition in 2007.
Currently, I write and edit a website, BellaOnline Twins. The site focuses on information on parenting twins, as well as basic information about twins and twinning. Each week I write a new article, which can be delivered automatically to readers via RSS or my weekly newsletter.
My past projects include:
- (2002-2003) Writing help pages for the MnSCU/Avenet E-portfolio project,E-folio Minnesota
In 2000, I authored a supplemental textbook for English Composition:
The Craft of Composition

published by Prentice Hall.
-

The 2000 Poetry Desk Calendar. These calendars are sold exclusively at Barnes and Noble stores and at bn.com. To order one now, click here.
- In 1999, I helped edit this pharmacy textbook:
A Practical Guide to Pharmaceutical Care
All of these titles and more are available by clicking on the links above, or by clicking on the link below:
---
Writing on the Web: Links for Students
Everything You Need to Know About MLA Style
Documenting Online Sources (MLA, APA, Chicago, and more)
Purdue's Online Writing Lab

---
Poetry, Writing, Coffee and more: Check out these links!